Tessy Plastics Appoints New President, Stafford Frearson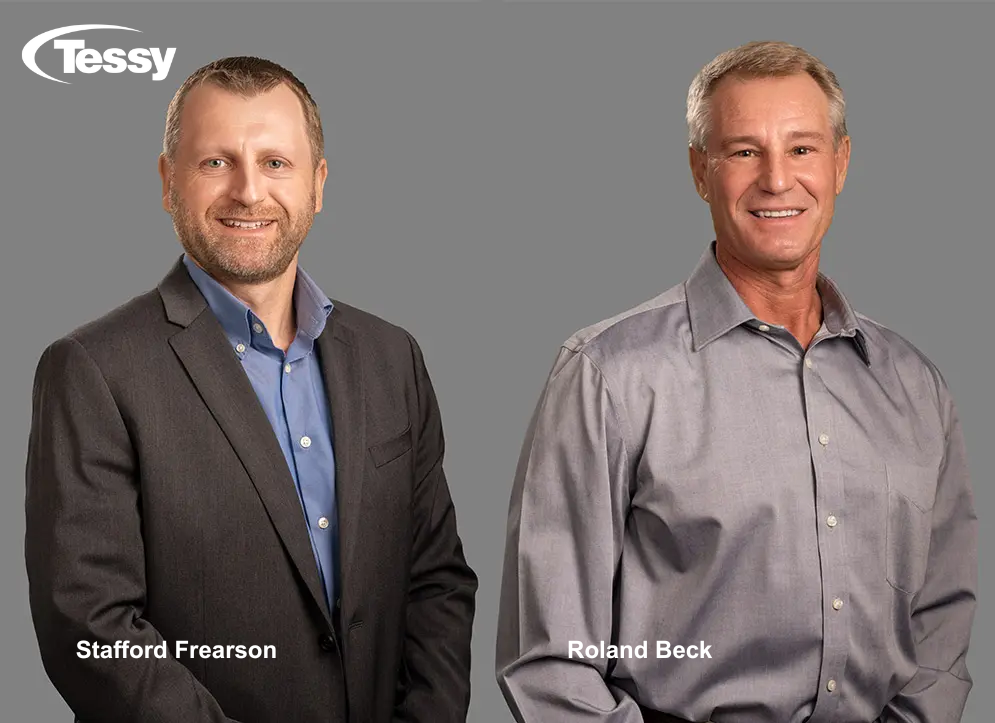 Skaneateles, N.Y, September 19, 2023— Tessy Plastics Corp. today announced a new
president, Stafford Frearson, who will be responsible for managing day to day business
operations across a total of 13 locations in New York, Pennsylvania, and Shanghai. Frearson
has been with Tessy since 1997, most recently as the Vice President of Engineering.
"I am excited to work beside Stafford to continue building on our success. I am confident
that he will continue to lead the company towards the sustained growth we have had our
first 50 years in business," said Roland Beck, Tessy Plastics owner.
"Throughout my career I've been privileged to work alongside some of the most talented
people in the injection molding industry. Watching, listening, and learning alongside an
amazing group of people has helped shape not only my career, but also me personally," said
Frearson. "I am excited for the next chapter in my career with Tessy and to continue
building on the success of both Henry and Roland."
Roland Beck will also now transition from president to Chief Executive Officer. Beck is the
son of Henry Beck, one of the original founders of Tessy. Henry Beck started the family
business in 1973 and served as Tessy's President for nearly 30 years. In 2002, the elder
Beck finally convinced his son Roland to step away from his passion as a technical Tessy
team member and move into the role of President. Roland has since led Tessy's
monumental growth to over $500M in annual sales and has grown the business to eight
facilities in Central New York, three in Webster NY, one in Erie PA, one in Meadville PA, and
two in Shanghai, China. Throughout that journey, Beck and Frearson have worked alongside
each other and have created an incomparable approach to influencing and progressing the
company.
Stafford Frearson has gained a vast amount of experience throughout his career by
successfully performing in various roles within the company. Frearson grew up in Barnstable,
England, and while attending school and throughout college, he worked part-time at a mold
manufacturer where he acquired a deep understanding of the nuances of the injection
molding industry. Upon graduating from
North Devon Community College
in the United
Kingdom in 1997, Frearson relocated to Syracuse, N.Y. and became a part of the Tessy
team.
Leveraging his experience with multiple disciplines at Tessy, Frearson grew into
management roles and was promoted to the Vice President of Engineering in 2018,
overseeing Research & Development, Tool Room, Engineering, Automation, and Information
Technology departments in addition to managing the acquisitions of two primary Tessy
subsidiaries – Tessy Automation and Tessy Tooling.
About Tessy Plastics Corp.
Founded in 1973, Tessy Plastics is a global contract manufacturer headquartered in
Skaneateles, N.Y., specializing in injection molding and custom automated assembly
solutions. We have facilities in New York, Pennsylvania, and China. All of our facilities are FDA/GMP compliant and add up to more than 3.2 million square feet, including 320,000 square feet of ISO Class 7 & 8 clean room manufacturing. Through comprehensive engineering and research & development, we provide superior quality and speed to market. Contributing to the Medical, Pharmaceutical, Diagnostics, and Consumer Healthcare and Consumer markets allows us to leverage our expertise over a wide range of products. Our capabilities include product design & development, rapid prototyping, tool design & build, medical automation design & build, plastic injection molding, and complex medical & consumer device assembly.
For more information, contact:
Grace Oswald
Tessy Automation
18114 Research Drive, Meadville, PA 16335
(315) 689-3924